Claddagh Crosses are of Irish origin; worn as jewelry, and also seen in engravings and art forms. Sometimes confused with Celtic Crosses, which depict the Celtic Circle of Everlasting Life, the Claddagh Cross hosts a Claddagh Ring.
Claddagh Cross Symbolism
The Claddagh Cross is a 16th century Irish symbol of eternal love and friendship. The heart at the center of the design is symbolic of love, the hands around it symbolize friendship, while the crowns represent everlasting loyalty.
The Linguistic Background of Claddagh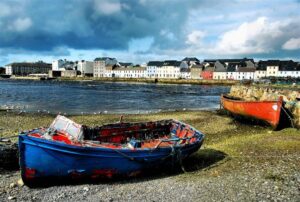 The word Claddagh is the anglicized form of the gaelic 'Cladach', old-Irish for 'flat stony shore', and comes from the ancient fishing village of Claddagh, in Co. Galway, Ireland. The town itself is named after the stoney seashore on which it was built.
One of the oldest fishing towns in Ireland, nothing now remains of the old thatched cottages that graced Claddagh until the 1930s, when they were replaced by council houses and other more modern homes, and yet the memory of the small Irish-speaking town's traditions and customs still lives on. Bing Crosby sang about it in the lovely song, Galway Bay.
The Claddagh ring may be classified as a "fede ring" — a design basically invented by the ancient Romans. Mani in fede is Italian for "hands joined in faith" (or "…in loyalty", "…in trust") and refers to the bezel of the ring being shaped like clasped hands. In Roman culture, people would clasp hands whenever they made a pledge.
Here's how to pronounce this Gaelic word: Claddagh
The gaelic spelling of the word tells us that 'Cladach' was originally pronounced [klad-ukh] and sounded out with a hard, guttural ending common to Irish words. The word is now more commonly pronounced without the 'gaelic touch' as [klad-uh].
Legend Has It…
According to legend, the story of the Claddagh cross began in a small fishing village in Ireland called Claddagh, which is located just on the outskirts of the city of Galway. Traditionally, men of the village would sail out into the sea to catch fish for food meant for their families. However, the sea was fraught with dangers; there were bands of pirates along with high tides and strong currents.
Richard Joyce, a young fisherman from the village, went out for this fishing expedition when a gang of Moorish pirates captured him. On boarding Richard's boat, the pirates found a few fishes and held him as hostage.
The pirates forced Richard to join their band, after which the young fisherman ended up becoming a slave in Algiers. There, he worked to melt the gold that the pirates plundered. Later, he was bestowed with the task to mold the molten gold into fashionable pieces of medallions and jewelry—something that armed him with the skill of a goldsmith.
In 1689, Richard was released and made his way back to Ireland. On reaching Ireland, he married a girl and started his goldsmith and jewelry-making business with her. Richard's specialty was a ring that was embedded with a heart.
Since this symbol originated in the village called Claddagh, his jewelry later went on to be called Claddagh jewelry. The Claddagh cross with this design is a symbol of Richard's love for his wife and their shared Christian faith.
Claddagh crosses have long been the traditional symbol of God's love, loyalty and friendship in the West of Ireland for generations. You can learn more about the history of Claddagh crosses here.
So many reasons to give the gift of Claddagh Crosses in its many forms…
Do you wish to give the Claddagh cross pendant to your beloved and eternalize your love? Our sterling silver Claddagh ring pendant is a romantic gesture that will be treasured forever.
Perhaps you would like to celebrate your Gaelic heritage by gifting family members with a Claddagh ring pin?
Our exclusive Claddagh cross necklace is a wonderful tribute to your faith and is widely popular in church settings.
Welcome friends and loved ones to your home with our beautiful large 5″ antiqued gold plated solid bronze Claddagh door knocker. Is there a more perfect way to give entrance than through the symbolism of love, loyalty and friendship?
Do have a favorite memory involving the Claddagh cross? We'd love to hear from you below.